Matchplay Long Robe Heather Grey
Great robe
07/03/2018
Absolutely love this night robe! The material is soft, the fit is beautiful and it washes up really well
Wonderful Robe
01/18/2017
This robe is incredibly soft and a treat to wear. I was looking forever for a good quality jersey knit robe, especially in a heather grey. So glad to have found this one from BTS! The description and pictures are exactly on point. Looks even better in person and feels amazing. This is a very soft jersey knit with a fluid drape, moves with you. Bonus, the wide attached tie belt is nicely slimming and the angled tie ends are a perfect finish. I do almost want pockets, cause I am kind of a pocket girl. But understandably that might change the look and drape, so I can live without it. Still, I love this robe and the ruby version as well. Also love that it's made in NYC. First-time customer, happy to have found you. Sizing was perfect, I ordered size Medium. Beautifully wrapped, prompt shipping. Five stars. Thanks BTS!
Perfect Robe
03/28/2016
I have been looking for the perfect robe for a long time. This is it! Very soft, just the right weight, and lovely to look at. Fair price for a great product.
OMG
04/01/2014
My robe arrived faster than the Visa charge! Amazing service.
Just what I've been looking for.
10/04/2013
This robe is what I have been looking for, exactly, and thought I'd never find. The quality is great and the material feels exquisite. Nice to know it is locally made, too. I highly recommend this line---much better than made-in-China product found in most stores.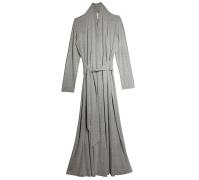 Matchplay Long Robe Heather Grey
Price: $95.00
Sold out sizes are out of stock for 2021, we will update our social media/email list when we are able to restock.
Morning chill, surprise knock on the door, or long weekend away - find your perfect go-to robe in our new range, Matchplay. In the most heavenly soft jersey knit, this will be the first thing you put on in the morning and when you get home in the evening.
Fall in love with little details like the wide attached tie, the figure flattering a-line shape, or the long cozy sleeves that push and stay up when they need to. There's nothing more luxurious than wrapping yourself up in slinky jersey full-length robe, instantly transporting you to a luxurious spa or hotel. This could be love, or just a match made in lounge heaven.
Made in the USA
Between the Sheets Collection