SALE Medium Venus In Play Robe Heather Grey
Basic staple
04/30/2019
Soft, casual. Nothing fussy.

Sexily short. Size large just covered a 5'4" lady's bottom.

I was hesitant to give this robe as a bachelorette gift as it isn't fancy, but I have no regrets. The bride wore this robe multiple times within days of receiving it. She even wore it while getting her makeup and hair done on her wedding day!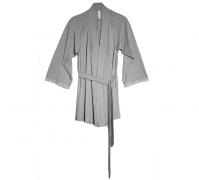 SALE Medium Venus In Play Robe Heather Grey
Price: $85.00

On Sale! $51.00
Only 2 left! Original $85, now 40% off!
Lounge like a goddess in our Venus in Play robe. With artful raglan & delicate double layered lace at sleeve its the perfect layering piece in uber-soft jersey knit. An easy & luxurious way to get cozy after a long day.

Pair it with our Venus in Play Pant or Shortie for a truly divine lounge ensemble
Made in the USA
Between the Sheets Collection