Venus in Play Sleep Tee Ivory
supper sexy
09/21/2018
Beautiful comfy and supper sexy. I always buy this set for bridal gifts but I wear mine all the time. Perfect jamies!
wedding gift
12/31/2016
Very pretty and sexy. This is an outfit that will be worn over and over most likely become a favorite! Because it is a wedding gift I don't know. Yet the same set I own has been worn and loved to death. Fabric is beautiful and the drape is perfect.
soft pretty light comfy
08/25/2015
love love love this tee. it hangs perfectly and is so comfortable it almost feels like i'm wearing nothing at all, it feels so good! i want every color!!
love this stuff
12/09/2013
This is the second top of the same fabric and style. My husband says its the sexiest night shirt ever. It is very soft and falls so gracefully. I wear this top a lot and it started to get little balls on it after a while but it goes with the pants and robe that don't get the same wear and tear and are still perfect. I will order more as pieces wear out. Love this design and quality.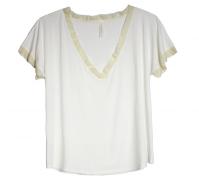 Venus in Play Sleep Tee Ivory
Price: $65.00
Lounge like a goddess in our Venus in Play dolman tee. Intentionally oversized and uber-comfortable, you'll want to lounge for days in this U-neck tee. A double layer of whisper soft raw edge lace trims the sleeve and neck.
Pair it with our Venus in Play Pant or Shortie for a truly divine lounge ensemble
Made in the USA
Between the Sheets Collection