Matchplay Robe - Our fan favorite & most reviewed item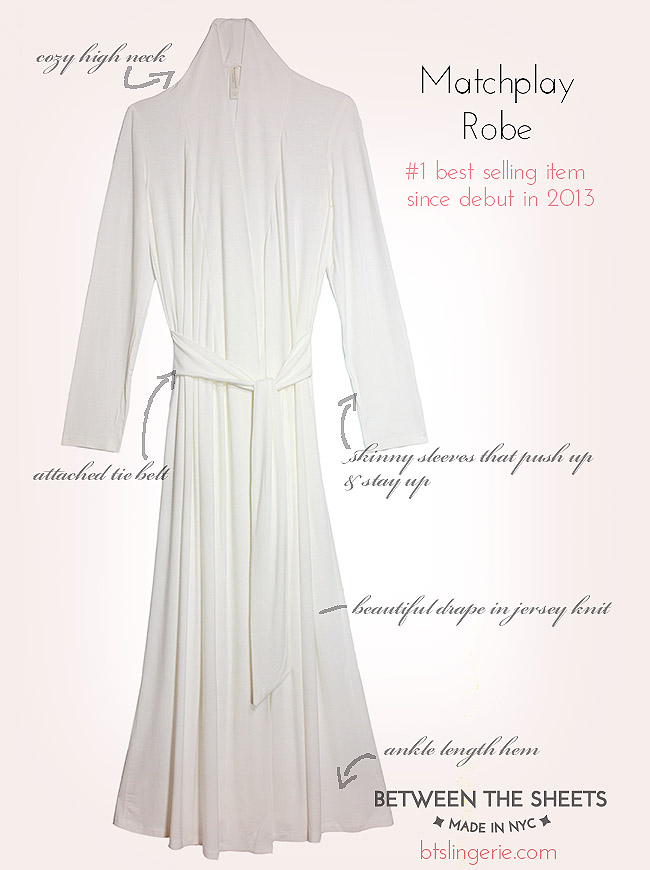 Just what I've been looking for.
This robe is what I have been looking for, exactly, and thought I'd never find. The quality is great and the material feels exquisite. Nice to know it is locally made, too. I highly recommend this line---much better than made-in-China product found in most stores.
April
LOVE
Love. Bought this for getting ready before my wedding. Beautifully soft and a great cut. I'm usually an XS - S. Fits me nicely, also could fit someone bit bigger. Really recommend it. beautiful.
Chrissy
Perfect!
Soft. Modern, not bulky like some robes. Love the navy color. Lounging Chic! Will purchase the black as well.
Aida
This is a beautiful robe, the feel and cut is lovely, I bought this for when I have my baby in hospital, it's comfort and luxury.
Heidi
LOVE this robe
This is everything I thought it would be: warm, comfy, soft, well-made, and pretty! I am wearing it now and could not be happier. This is my first purchase but I don't think it willbe my last!
Cecilia
Perfect service. Beautiful robe. If you bring it out in pale blue I will buy another one ! Thank you so much.
Michelle
Between the Sheets Lingerie Reviews
Airplay babydoll
Airy & Fantastic
This piece is comfortable and beautiful and my favorite piece of lingerie I have owned thus far. The company has great customer service and I fully enjoyed ordering from between the sheets and hope to do so again in the future.
Airplay Bralette
I have bought several of the bra and panties along with the body suit ... I must say I am never going back to any store again to purchase my undergarments again . These are quality material .. Soft .. Sexy... Designed by a woman for a woman.. They make you feel sexy .. And above all .. They make you feel like you are wearing nothing but the sheets ! I love this company and I highly recommend it to anyone!
Petal Play Hiwaist
Love BTS designs!
I think the design of this panty is ingenious. They are high-waisted, without cutting into your waist, and I love the "granny-panty" waist juxtaposed with the super hot cutout in back and luscious lace. These are my husband's favorite. I also really like to wear them under my nipped, high-waisted pencil and full circle skirts and trousers. I like that the waist of the panties aligns with the waistline of my skirt/trousers. Plus, the light fabric that just lays on your tummy and legs instead of being elasticized in a way that cuts into the body makes for no panty lines. And....made in the USA!
Bodysuit
superb
totally satisfied with the products and have nothing to complain about really. A+ underwear!
Wow.
So this piece is amazing- It is a wonderful fit, washes well and does the trick! The softness and functionality of it have me wanting more. I will defiantly be ordering more from Between the Sheets.
Come Out & Play boyshort
The best!
These are my favorite knickers of all time. They are soft, stretchy, and perfectly designed, covering just the right amount. They are invisible under clothes. And whoever designs the color combinations deserves special praise. Because their stretchiness allows them to accommodate to your body, those between sizes might do well to choose the smaller size.
Leopard Play Robe
Incredible!
I LOVE this! The fabric is unusual and it's really well made. Excellent value for money.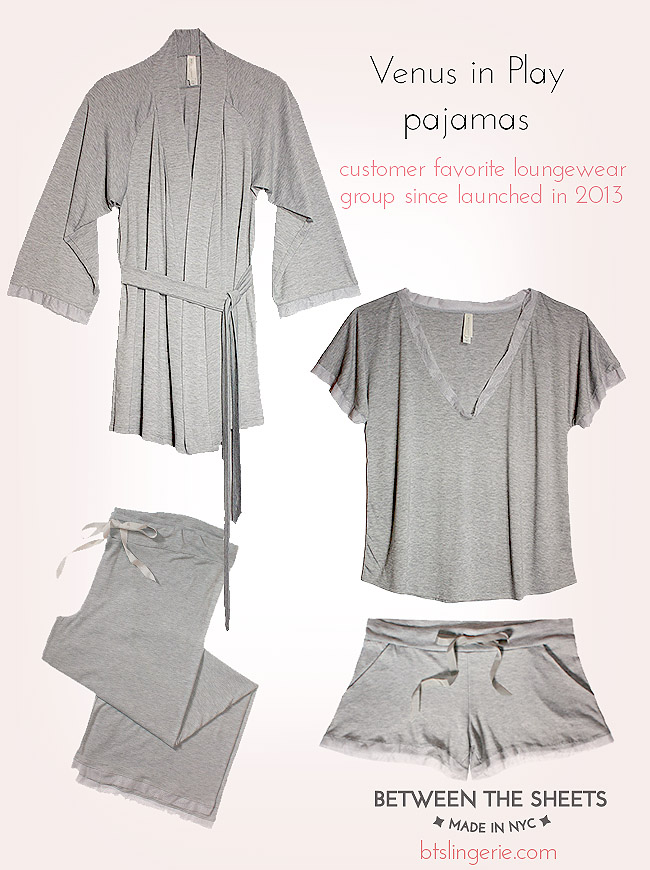 love this stuff
This is the second top of the same fabric and style. My husband says its the sexiest night shirt ever. It is very soft and falls so gracefully. I wear this top a lot and it started to get little balls on it after a while but it goes with the pants and robe that don't get the same wear and tear and are still perfect. I will order more as pieces wear out. Love this design and quality.
Barbara
Cozy & Sexy
OMG , so cozy ! Chic & sexy as well ~ I'm so into the lace trim & V- neck ! Definitely shop other colors.
Jenny
So Wonderful.
These pajamas are so excellent. The plunging V-neck is super sexy but not weirdly gouchy - and I have size A breasts - it somehow manages to be a slouchy, yet-perfectly-fitted-for-small-breasts v-neck. This almost never happens.

The bottoms, also - hooray! They are ankle length and I am 5'4''. Finally, pajamas sized for a petite/small person who is not 6 feet tall. They feel like they were sized just for me. I usually have to have pajama bottoms hemmed so they don't drag on the floor - not these!

I washed them on delicate - line dry - and they came off the line looking like they had been freshly steamed/pressed. The fabric is incredible.

I love Between the Sheets. So far, I've used their underwear, pajamas, and bras. They are a domestic company I'm super excited to purchase from. The quality is wonderful and their creativity in design excites me!
Karena
soft pretty light comfy
love love love this tee. it hangs perfectly and is so comfortable it almost feels like i'm wearing nothing at all, it feels so good! i want every color!!
Jyl